Work Wear, Heat Protection & PPE
As a full-line distributor we offer a comprehensive product range in the field of Personal Protective Equipment (PPE). In our own manufacturing facilities we produce welding and heat protection items according to your individual needs.
Our comprehensive procurement and quality management ensures you a reliable delivery capacity at competitive prices. Services which we offer for the respective product complete our program, as for example finishing, embroidery service and the sewing of emblems. We also check your safety harnesses at the annual audits, also at your own location, if you wish.
Our consultants are pleased to help you with the creation of hand, skin or complete PPE-plans.
Head protection
Helmets + accessories
Protective goggles
Welding protection
Ear protection
Light + heavy respiratory protection
Technology for gas instruments


Hand protection
Leather gloves
Cotton gloves
Knitting gloves
Welding protection gloves
Technical gloves


Body protection
Work clothing
Guild clothing
Welding protection clothing
Multi-standard clothing
Warning clothing
Chemicals protection clothing
Height safety clothing
Forest protection clothing
Business clothing
Rain clothing
Cold-resistant clothing
Troyer/sweater
Shirts
T-shirts
Underwear & intermediate clothing
Foot protection
Safety shoes
Working shoes
Safety boots
Winter boots
Waders 
Garden clogs
Shoe accessories: Socks, Insole, Shoe care products


Occupational safety
Safety harness
Fasteners
Lifejackets
First aid
Eye-wash bottles
Emergency showes
Skin protection
Washing room sanitation
Cleaning and floor cloth
Rescue signs
Fire protection signs
Prohibition and mandatory signs
Warning signs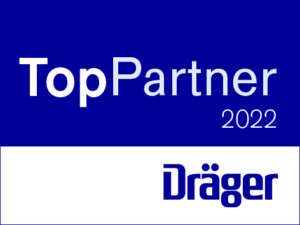 This year we are once again a Dräger TopPartner.
We are a preferred specialist dealer for the Dräger industrial portfolio (light respiratory protection, protective goggles, escape equipment, self-contained breathing apparatus, chemical protective suits, gas detection equipment, alcohol and drug detection equipment).
Here you can find our certificate.